Back in the days we went out shopping or bought something on our computer. Nowadays, we tend to look at our phones to complete an order. Mobile has become the most important device for e-commerce and a crucial device to focus on. That's why we are going to tell you everything about social shopping: shopping via social media!
What is social shopping?
We scroll through our social feed for around 1.5 hours every day, so it isn't strange to hear that social shopping is gaining more popularity. But what exactly is social shopping? Social shopping is selling products via social media. You can do this by using a market place to sell (second-hand) products, like Facebook Marketplace, or via posts.
This post can be set in a way that a social media user can click on an item in a picture and immediately gets information about the price and is sent to the product page of the webshop. That's how your target group can convert easier than ever. All because their favorite products are shown and can be bought on the platform they use most.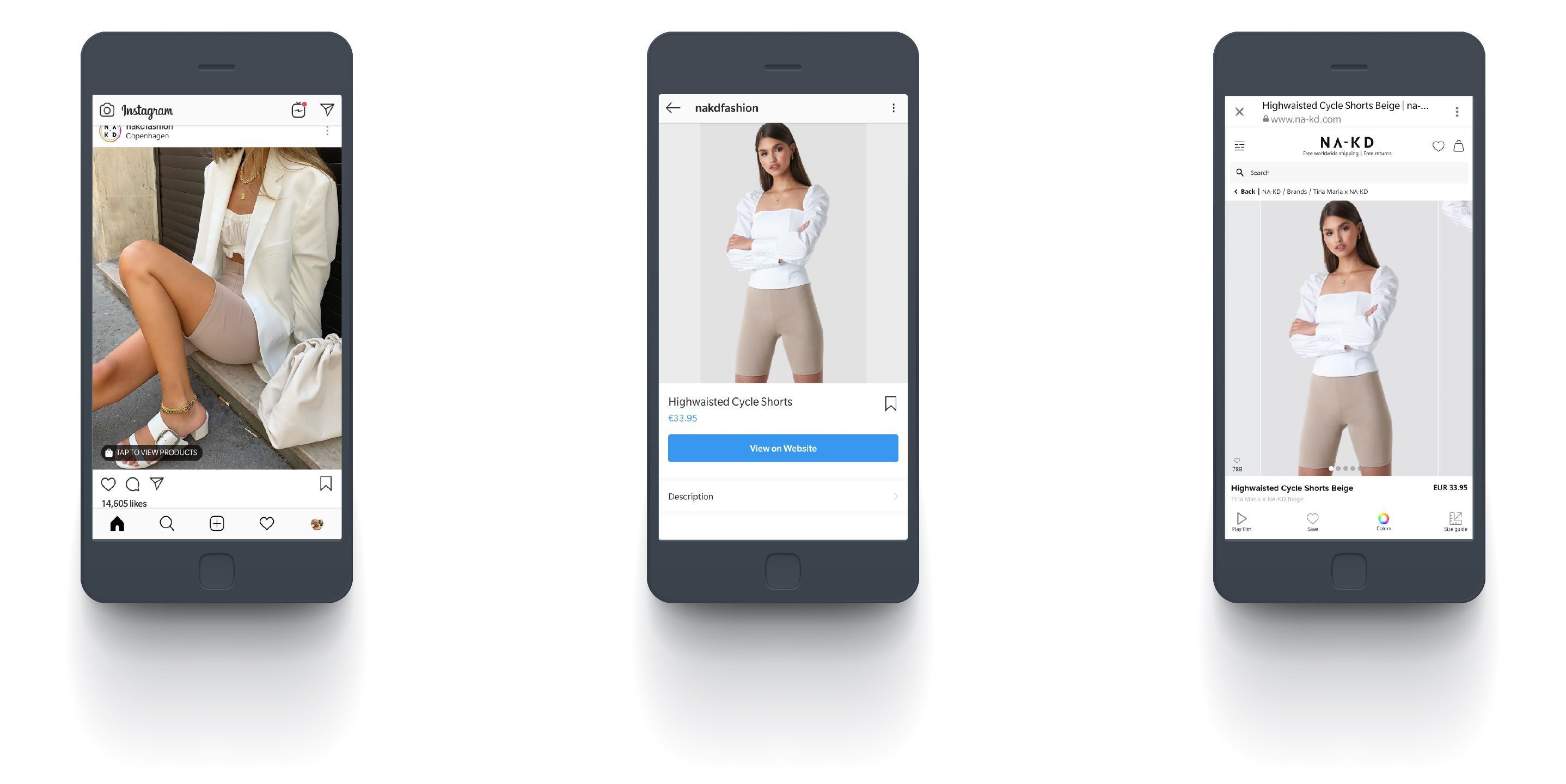 Social shopping benefits
So converting your target group is made easier with social shopping. This is also the greatest benefit of social shopping. Making a purchase as easy as possible should be your number one priority and that's where social shopping comes in. With social shopping, your target group only has to look, click, and buy, directly from social media. That's how you make purchases as easy as possible and you guide your target group through their customer journey.
Still, this flawless transition from scrolling through your social feed to actually buying something can also work at your disadvantage. Even though you get insights in who purchases something via social media, it's less easy to get an overview of the whole customer journey. That's why it's important to use a structured CRM system that you can use to analyze all your contacts, leads and clients, to see what they do. That's how you get a great overview of what your target group does online and how you can improve.
Tips & Tricks
All easier said than done, because how can you get started with social shopping?
1. There are several different platforms you can use to get started with social shopping. The platform you choose has to be the platform your target group uses.
Aren't sure who your target group is and which platforms they use? Download our Sterc Model and get a clear overview of your target group, competitors and trends in the market to get to your online strategy.
Are you mainly focusing on Snapchat? Then it may be smart to think of Amazon as a platform to connect your company with. Snapchat users can scan a barcode of a product or the product itself to get suggestions of similar product on Amazon. That's how you get your Snapchat Shopping game on!
2. Most of the social platforms let you tag the product inside a post, but you can tag products in stories too. These 24-hour visible visuals are available to anyone and don't undergo a social media algorithm. That's why your stories are always shown to your target group.
3. When you have started with tagging your product, it's important to keep tagging consistently in all the posts that show products. When users see a post and suddenly can't just click and buy, you will lose them.
4. When you've tagged posts or stories, it's crucial to analyze these. Each platform makes sure you can see how your social shopping ads and posts are performing. Of course, you can also use Google Analytics for this. That's how you get to see which products or styles are interesting for your target group, so you can use this information to create even better shopping ads on all the different platforms.