The MODX content management system is our holy grail for building websites, webshops, intranets, and other digital products. Although this CMS is not as well-known as CMSs such as WordPress, Drupal, and Joomla, the online performance is the greatest. Below you'll discover why MODX is still our favorite CMS.
The benefits of the MODX CMS are:
Open-source
The dedicated MODX community
Multichannel
Multilanguage
MODX extras
It integrates with everything
Speed
Online visibility and SEO
Secure
Scalable
Flexible
MODX cloud
What Is MODX?
MODX is an open-source content management system (CMS). Open-source means that the source code is freely accessible to everyone, so you won't depend on one agency to create and maintain your digital platform. A CMS makes it possible for you to quickly manage and distribute your content, whether this is text, video, or images.
But MODX isn't your usual content management system. It's also multichannel, offers loads of powerful MODX extras, you can integrate it to every external software, it helps you to become visible online, is fast, secure, scalable, and much more. What this all means, that is what you'll find out below.
Open-Source CMS
Because this CMS is open-source, the source code will always be freely accessible. Which means that you can use MODX for free. A huge benefit relative to a closed source CMS, for which you often have to pay license fees. Besides being free, open-source allows you to go to any agency for redesigning or building your website, so you don't depend on just one agency.
For MODX, this means that you'll have an enormous MODX community filled with developers who build, test, and maintain the system by your side. That's how the system stays smart, fast, and secure. And if you have any questions, the international community is always nearby to offer you the right support.
Multichannel CMS
Multichannel is one of the many things that makes MODX such a unique CMS compared to other CMSs such as WordPress, Joomla, and Drupal. Multichannel allows you to manage multiple channels in one CMS. So you efficiently manage your website, webshop, (web)app, intranet, digital signage, career site, external integrations and third-party websites, social channels, and many more, all in one place. What this means for you is that you can distribute your content on all your different channels with ease, while maintaining a consistent branding throughout.
The greatest thing about multichannel is that it isn't only about multiple channels but also multiple languages. MODX allows you to set the CMS and the digital products you manage in it, in any desired language. This multilingual CMS enables you to collaborate with any team in your organization, wherever they are and whatever language they speak.
When you want individual teams or specific people to manage particular channels, you can quickly set the roles and permissions. Allow your marketing and communications team to place blog posts while allowing the front-office to manage the digital signage. This feature also makes sure that any code is locked in a secure place. That's how you make sure that only the people that need to change the digital platform can access the code, so your digital platform won't crash.
MODX Extras
The MODX CMS has always been a smart CMS, equipped with all the necessary tools for content managers. When you want to expand the CMS with essential functionalities, you can use one of many MODX Extras. These extras are an extension on top of all the necessary features and help you improve usability, online findability (SEO), security, or speed and give you more freedom to achieve your goals. The community and our colleagues from Sterc have created many extras. However, it's still possible that these aren't sufficient for you. It's great to know that MODX allows you all the freedom to develop your own functions.
Because the MODX extras are an extension of the basic functionalities, they won't overwrite any critical code. This means that updates are easy to implement without breaking any functionalities, which causes crashing your website. So you won't ever have to worry.
MODX Integrations
MODX is extremely flexible. That's why we can integrate this CMS with any external software and systems. When a system is integrated, we can automatically transfer all data from this to the CMS. You never have to transfer all this data or continuously update it manually.
MODX integrates with any CRM, ERP, PIM, PMS, marketing automation, service, planning, or chat software. Want to take a look at the most known integrations such as HubSpot, Exact, Salesforce, SAP, and inRiver? We've created a shortlist for you! Can't find your favorite tooling in here, no worries, we can integrate any package :)
MODX And HubSpot
One of our most potent integrations is with the marketing and sales platform HubSpot. HubSpot gives you all the tools to help your leads and customers in the best way possible, to make sure they keep returning to you.
HubSpot's foundation is its powerful CRM, where you can save all data and interactions with contacts. Because all data is saved in one place, any team member can see what every unique visitor desires and use this to help them find their answers.
HubSpot has features such as live chat, chatbot, email marketing, marketing automation, meeting planners, forms, and personalization. When integrating HubSpot with MODX, you can adapt your digital platform so that any visitor can quickly get to the right information. That's how you turn leads into customers and customers into promoters.
We've created two ways to integrate HubSpot with your CMS:
HubSpot API: The HubSpot API allows you to integrate HubSpot with your CMS fully. You can add functionalities like chat(bot), meeting planners, and forms to your digital platform. Still, you can also start with contextual marketing right from within the MODX CMS. This means that you can personalize a piece of content on a page or an entire page based on data. Show new visitors, for instance, a call to action for requesting a demo, while showing your customers a button to get in touch with your service team. You can also use multiple data sources like weather and location. When you know one place is expected to have some fantastic weather up ahead, you show people who are in this location content based on this.
HubSpot Extra: We've also developed a MODX extra for HubSpot. This extra quickly adds HubSpot tracking to your digital platform. Now you can track unknown visitors, until they've become familiar leads, or even returning customers. Because you know who has viewed which pages, you can adapt your content, so it matches what your visitors are looking for. That's how you can help them quickly find their answers.
Speed
From the basis, this CMS only has the essential basic features, so your platform will always be fast. And the MODX extras are an extension on top of the standard code so that they won't slow down your platform either. That's how MODX will stay clean and lean, and your digital platform will always be supersonically fast, even when adding an extension or an extra channel.
Online Visibility & SEO
Being visible online is crucial when you don't want to miss out on any exciting leads, and this is what MODX helps you with! To get started with search engine optimization (SEO), you need to consider three factors: content, authority, and technique. And the last one, that's where MODX excels in!
Because this CMS lets you do things your way, you have 100% control over your technique. That's how you get a platform with little code, readable URLs, and an overall smart technique. And these are precisely the things search engines love so much! Because the system never gets overloaded with unnecessary code, MODX makes sure it will always rank high in search engines.
Besides, the many MODX extras for improving your SEO can help out, too! SEO Suite, for example, helps you solve 404 errors. It discovers 404 pages and shows suggestions for a similar page that is online. SEO Pro enables you to create the perfect meta description and page title by keeping count of the number of keywords you use and indicating the maximum number of characters. Finally, the MODX extra SEO Tab lets you manage which pages are and which aren't indexed by search engines like Google. That's how you make sure your landing page for SEA campaigns aren't indexed, so you won't have to worry about duplicated content.
Security
Security is the power of MODX. Inside the community is a reliable team of developers who checks all the code, discovers vulnerabilities, and solves these quickly. The Two Factor Authentication sends you a notification when someone on an unfamiliar device has tried to log into your account, so you'll always know when someone else is using your account. Finally, you can always use the MODX extras to improve the security of your platform even further. This all makes MODX more secure than the most popular CMSs.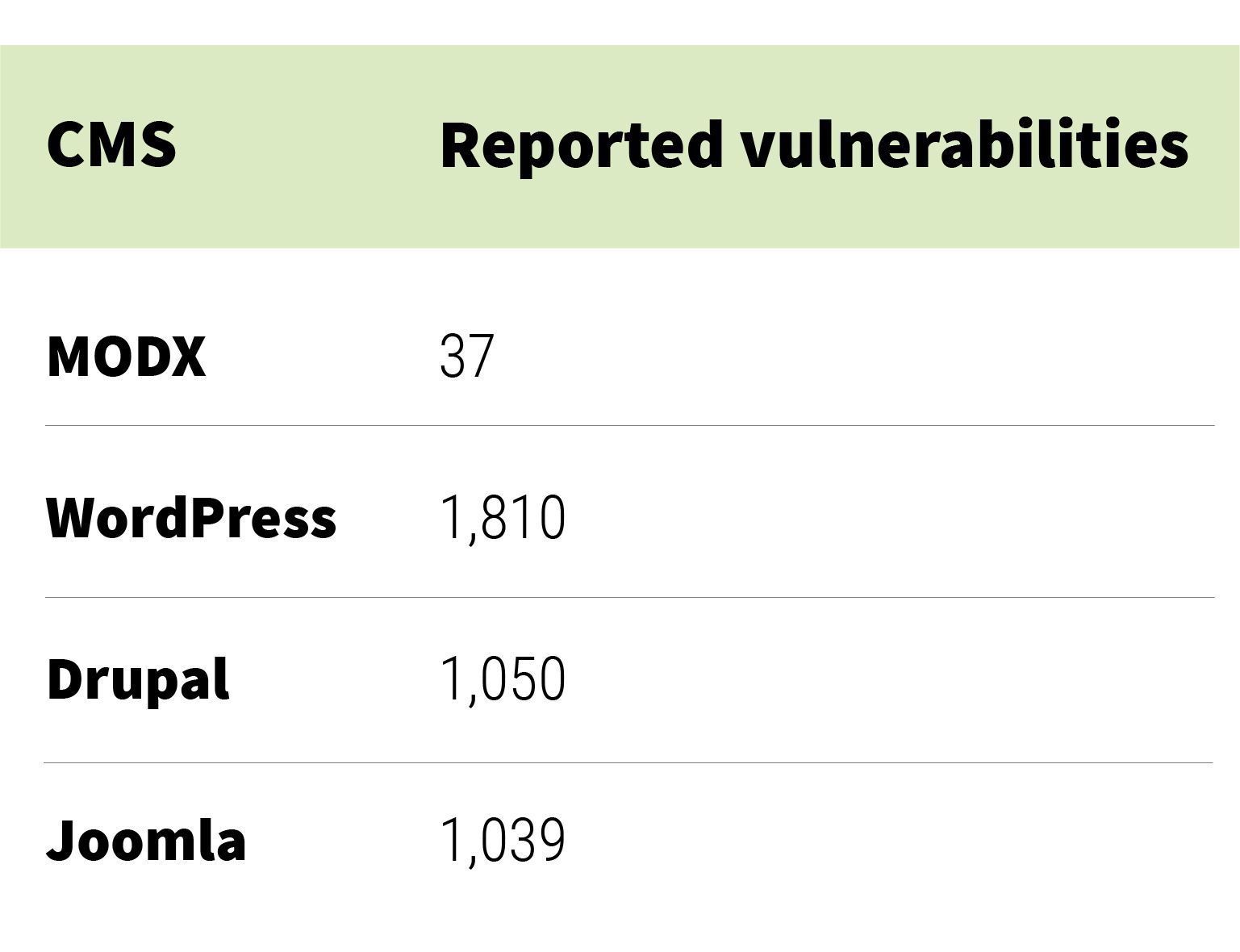 Scalability
Organizations nowadays are constantly evolving. They grow bigger or smaller, or divide into multiple companies. It's great to know that MODX always grows with you. Because the CMS is multichannel, you can always add new languages, integrations, and channels, without overwhelming the system or slowing it down. So you can keep focusing on the growth of your business, without any online obstacles.
Creative Freedom & Flexibility
When you install MODX for the first time, it might be a surprise that it only shows you a blanc page. Although this might seem a bit deceiving, is this actually the beauty of this CMS. This blanc page allows developers and designers to create whatever they want, however they want it. That's how they can design anything you want and turn it into a working product. They can implement their own code and techniques to create a product that looks exactly like the created designs. MODX gives you all the freedom you need, unlike most CMSs, that impose a particular way of coding. That's why most designers and developers find MODX such a create CMS.
MODX is also for content managers an excellent CMS to work with. Because you can quickly add any new channels and languages, you can easily collaborate with your team and your company as a whole. Besides that, you can also create a custom dashboard that only shows those things you and your team need to get started. So you'll see in an instance how many web visitors your platform has, and which 404 pages haven't been solved. Or create within one click a new landing page, intranet item, new sheet for digital signage, or blog article.
Pages are also created within a blink of an eye. With a set of essential content blocks for text, images, and video that you can drag and drop on top of one another, to let your text and visuals collaborate fluently.
MODX vs. WordPress, Drupal, and Joomla
Just like the popular WordPress, MODX is also a content management system. Perfect for content managers to quickly create, duplicate, and remove content. What makes MODX so different from its more popular brothers, such as WordPress, Drupal, and Joomla, is that it is a framework that gives you all the freedom. Users of MODX call this CMS, therefore, a content management framework.
This freedom is namely because you aren't bound to use templates loaded with unnecessary code, or a specific type of coding. The option to unlimitedly add new channels, integrations and languages also makes MODX unique. Most CMSs make it challenging to create a multilanguage digital platform, whereas MODX lets you add a new language in just a few hours. Besides that, it's just great to have all of your products in one place, so you can quickly distribute your content over all your different channels while keeping your branding consistent.
MODX3
MODX3 is the newest version of MODX and the version in which we create all of our digital platforms. Besides all the features mentioned above, this new version has an improved user experience, a renewed dashboard, and a flawless and complete integration with HubSpot. That's how you can use this CMS to get started with personalization and contextual marketing, to customize it to every unique visitor.
Besides this flawless integration, MODX3 also gives you access to the Cropper Tool. The Cropper Tool lets you scale images perfectly for any device, so you show exactly what you want to show. The QR and NFC Generator is also one of the new functionalities MODX3 offers you. This generator creates a QR or NFC tag for web pages, files, or images in just one click, so you can quickly lead your offline visitors to your online platform.
MODX Cloud
When your new platform is finally online, you want the hosting to be secure. The MODX cloud offers you a reliable, fast, and up-to-date hosting, and support is always available. The cloud automatically performs updates, so important data never gets lost. Besides, the hosting dashboard is super user-friendly, so that literally everyone can use it. With just one click, you upgrade your CMS, so you'll always be secure. And best of all this: MODX cloud isn't only the perfect hosting solution for MODX, it also works great for other PHP applications, such as WordPress, Drupal, Slim Framework, Laravel, Joomla, and Matomo.
MODX Agency Sterc
At Sterc, we've developed in and on the MODX CMS for over 15 years. As an experienced and international MODX agency, we love to share our knowledge of this CMS. Still, we also want to expand it even further. We do this by organizing and participating in MODX training sessions, meetups, and workshops. We also love to help organizations worldwide to improve their workflow and offer MODX demos and audits. Because we have most MODX developers in our office, we can offer our customers 24/7 support.
After this extensive blog post, we hope you understand why we think MODX is such an awesome CMS (and becoming fans just like us!).