They already exist for years now: methods to get your offline leads easier to your company online. These methods, NFC and QR, do seem to make their entrance just now though. How is it possible that these methods never really had their breakthrough and how can you, now it's 2019, make use of these methods? That's what you'll find out in this blog!
Quick scanning with QR
QR codes, the black and white square codes that probably everyone still knows of. It made its entrance already ten years ago, and it could already be used in marketing then. This year, it looks like it's finally going in the right direction. Why now?
QR is a 'Quick-Response' code which can be compared with the barcodes you find in stores. But in contrast to barcodes, QR codes can easily and quickly be scanned by everyone. In China, everyone already uses QR codes to make payments in WeChat or AliPay easily. As for the rest of the world, QR is finally in the rise, because it can finally be scanned using the camera app. Still, not every phone has this functionality, and not everyone knows about it.
That's probably the reason why it didn't go so well for QR code ten years ago. Not all devices were equipped with the software needed to scan QR quickly. Besides that, QR codes weren't printed the right way, were placed in the wrong places, QR code sent people to the wrong landing page (homepage instead of product page) and not every website was made 'mobile first' in that time. Luckily all these things have changed over the past few years, and that's why it's now the perfect time to take a good look at this!
NFC: just tap 'n go
The Near Field Communication-chip, also known as NFC, is a method everyone uses every day, but still can't be used on every phone. NFC already exists for years and is a method you use to pay contactless with. Using NFC, you just have to 'tap' to execute a specific action.
In contrast to the RFID chips, chips that are used as an ID to enter a building, to chip your pet or to pay toll when driving on toll ways, you can do a lot more with NFC. Though NFC has a less high frequency than RFID, it does have the functionality to send and read. That's the advantage of NFC over RFID, you can have two-way communication. That's how you can use your smartphone as a bank card but can save and collect 'loyalty points' of your favorite supermarket or convenience store at the same time. With NFC you can turn your mobile in a digital wallet where credit cards and loyalty points cards come together.
NFC still isn't popular though. Probably because of the same reason as QR; not every phone had NFC in their basic functionalities. Nowadays, more and more phones do have it. This is what makes NFC interesting to take a look into just now.
Google Lens
Google has released a new feature too: Google Lens. With this people can quickly get more information by pointing their camera on an object, text or image. Google shows several suggestions with compared objects. Sadly you still can't direct where Google redirects the users to, that's why it's not (yet) suitable for marketers.
NFC vs. QR
Both are fantastic ways to get your target group to execute a particular task quicker. That's how you can use these methods to send your users from offline to online. There are still enough differences to mention.
Let's show the similarities between NFC and QR first. You can use NFC and QR both for:
Redirecting your users to a website, landing page or social media profile;
Showing your users a video;
Showing your users images or photos;
Giving them more product details;
Easily let them give a Google Review;
Calling or WhatsApp to a specific number;
Granting them access to an event.
Besides these similarities, you can use NFC for several other things. That's because NFC has a two-way communication. You can even change several settings in your phone using NFC. You can use NFC for the following things:
Changing profiles on your phone (to easily change it to driving-mode);
Make contactless payments;
Automatically 'check-in' on Facebook;
Pay with your phone and add loyalty points at the same time;
Exchanging files, business cards or other information between devices.
Both NFC and QR haven't been in the rise because still not all the devices had an NFC and/or QR scanner. Nowadays, almost every phone (iOs, Android, Windows Phone and Blackberry) has a QR scanner. Most of them in the camera (iOS 11+) and Android users can use Google Lens for scanning a QR code too. You do need to change some settings in your camera settings to access these features.
NFC is not yet that far. Even though Android already put it in their phones since 2012, Apple waited until it found a good use for it. Now Apple is finally convinced of the ability, and the newest iPhones are equipped with an NFC reader. Below you can find a table showing which devices do and which don't have these functionalities.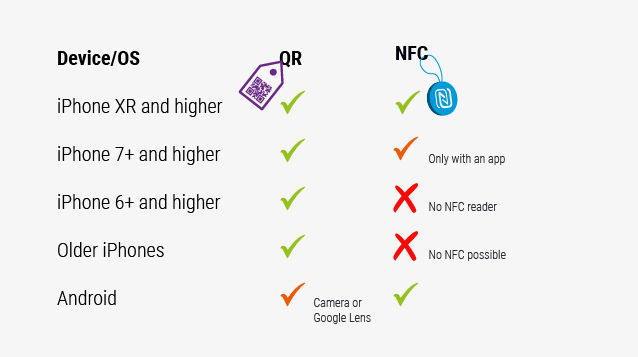 Extra method
Besides NFC and QR there's one more 'method' you can use: A shortened URL. How simple it may sound, but NFC and QR are only needed because the URLs are too long too easily type them. More and more software is offered to shorten the URL, and you can decide how you want your URL to be when creating a new landing page. You can even get an extra domain, with a shorter domain name.
Not only can people easily type shortened URLs, but they make QR codes less complicated and easier to scan too. Keeping your URLs short should actually be priority number one, even if you don't use this method in your marketing strategy or for creating QR codes.
Let's put this into practice
Sounds all good and stuff, but how can you use these methods marketing-wise? That's what this paragraph is all about! Both QR and NFC can be used for every goal, but some will be better than others.
Offline to online
Both methods are used best when you want to redirect your offline users to the online world. Let the readers of your magazine scan a QR code to show them a video or website, for example quickly. Or provide your visitors with more information about an art object, festival or clothing using just a scan or tap. Ingredients of your delivered pizza or fancy dinner can also be quickly shown with this tool.
Both QR and NFC can be used to send your users from offline to online easily. QR doesn't have any extra costs, but with NFC the number of costs isn't anything to worry about especially when you use NFC stickers.
Device to device
NFC and QR are perfect when you want to send more information using other devices. You can show a QR code on your digital signage screens, so people only have to scan to get more information about your products or to send them to a hand-out or sale offer.
NFC is perfect for this too because this method is introduced with the focus on sharing pieces of information between two devices. You just have to tap another device like digital signage screen, tablet or another phone to send your customers to the right piece of information.
Review
As a marketer, you probably already know how important online reviews are. 88% Of the online users incorporate reviews in their purchase decision and 80% values online reviews as much as personal recommendations1. Now we know that getting online reviews isn't easy, but you can facilitate an easier way to give a review. Try an NFC tag and/or a QR code that directs scanner to a Google Review page.
Sales
As a member of the sales team and face of the organization you probably want your potential clients to save your contact details easily, to call you or to send them to your LinkedIn page. Adding a QR code or NFC tag into your business card can make all these processes a lot easier. By redirecting your users to the (social) page that shows more information about you or your company or to a contact page. You can even let them call or message a specific number. Google Lens also has the functionality to save contact details when scanning a business card immediately. Enough reasons to use these methods, even for sales!
Now you know more about these methods, which one are you going to use? At Sterc we strongly suggest you use multiple methods at the same time, so you're more confident about attracting all those interesting leads. We recommend especially to use a shortened URL. This way, everyone can visit the website, even if they don't have a QR or NFC reader. Want to know about more online trends you can use? Just download our Online Trend Report of 2019. Full of trends and online opportunities you can miss out on!
1: https://www.vendasta.com/blog/50-stats-you-need-to-know-about-online-reviews