You've just created that awesome piece of content, the only thing left to do is distributing it across multiple channels. How great would it be to have a way to easily do this? That's where a multichannel CMS comes in. With a multichannel CMS, you can manage all of your content from multiple channels in one place, while also being able to set multiple languages and set different roles and rights for your team. In this blog, you'll discover more about multichannel and why this is one of the many reasons we chose for Content Management System MODX.
What is multichannel?
Multichannel is distributing your content across multiple platforms. With a multichannel CMS, you can easily do this for all the channels your company works with while using just one CMS. That's how you can create content for your website while creating it for your intranet, digital signage, and even social media without having to visit every platform separately. In short: a multichannel CMS is distributing content made easy.
Multichannel CMS MODX
A multichannel Content Management System makes it easy for you as a content manager, but which CMSs are perfect for this? At Sterc, we work with the MODX CMS. With this CMS we can easily distribute all of our content across web, app, shop, intranet, digital signage, job environments, integrations, marketing automation, email marketing, and social media. Every channel that helps your organization to achieve online success can be linked with MODX so distributing content is done even easier.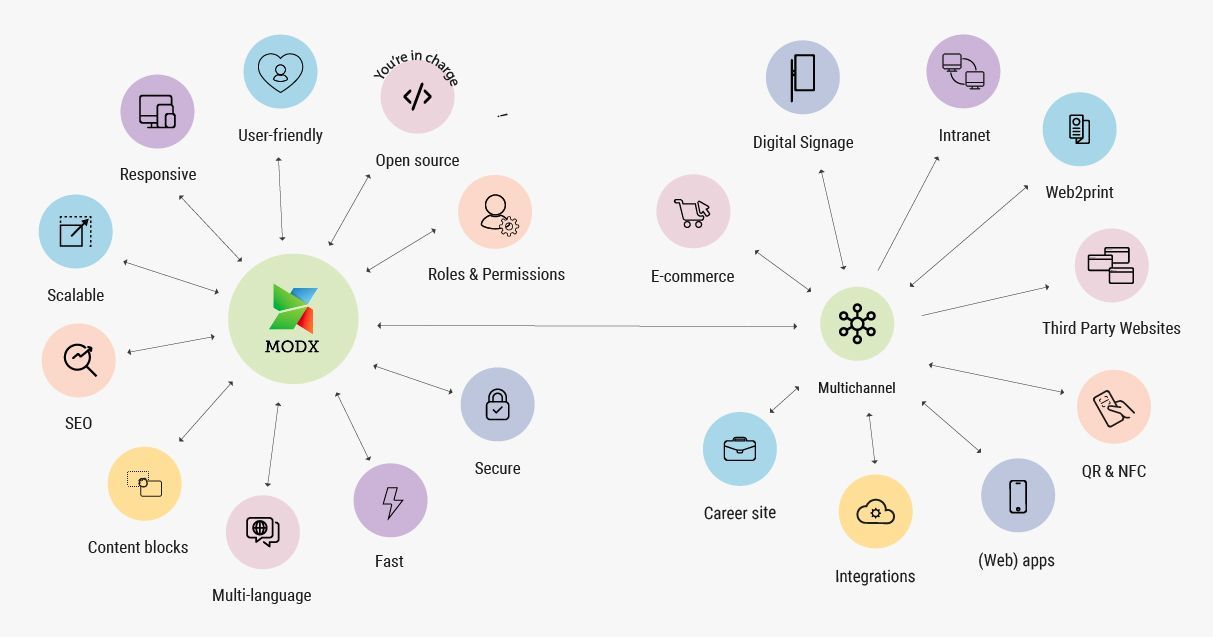 Roles and rights
It's understandable you don't want every member of your team to have access to every channel. For example, you probably want your office manager to access the content of the digital signage screens, without them making changes on the website. In the MODX CMS, every member of your team has a different role with other rights so everyone can manage the channel they need to manage.
Multilingual
On top of setting different roles and rights, the multichannel CMS is multilingual. This is great when having international team members or when translating your content. In the MODX CMS, you only have to push one button to get to a page you can translate and automatically put it in the right place on your website. Do you work with an international team or is your target group from all around the world? Choose for a CMS that lets you easily translate your content and that can be shown in different languages too, so every member of your team actually understands the CMS.
MODX cropper tool
In our newest MODX installations, we bring present a new feature: the MODX cropper tool. With this tool, you can easily crop your image for different channels and sizes. You can also choose which part of the images is shown, so you don't have to worry about weird croppings or cuts you might come across (even with a responsive site). That's how you are in complete control over all of your content on all different channels.
And that's how a multichannel CMS is the perfect tool for every content manager and every other team member. Both national and international. So make sure the next CMS you choose to build your website with is a multichannel CMS. Want to know more about MODX as a multichannel CMS? We love to tell you more about it during a MODX demo.